It's no surprise that live-fire cooking has become one of the hottest food trends to hook restaurants and chefs across the country. There's something about returning to our roots - to the oldest cooking method since the beginning of time. Not to mention that wonderful smoky flavor that captivates your senses from the first taste. It's hard to beat!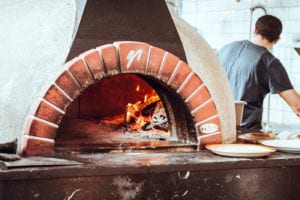 A question you won't hear customers ask in a restaurant very often is "Where did you get your firewood from?" We might ask where the fish was caught or where the steak was sourced from, but the particular firewood a chef uses is equally important.
One live-fire cooking enthusiast explained: "I have used green woods,
but to me, it just gives an off, kind of rancid flavor. I prefer kiln dried wood because it's clean, and any nasty stuff in the wood like sap, bugs, bark, moss, etc. have all been killed off." This individual is not alone in their preference to use kiln dried wood for cooking. Restaurants and chefs across the country prefer kiln dried wood for several reasons:
Kiln-dried firewood is bug and disease free. As a result of being heated to an internal temperature higher than 160 degrees for more than one hour; 

insects, molds, and other organisms are destroyed. Restaurant owners also prefer the extra peace-of-mind this brings during health inspection

time.

Because kiln-dried wood has a moisture content of between 10-
15%, it produces far less creosote than traditionally seasoned firewood. This requires less cleaning and maintenance and is far safer for the facility and their patrons.
Kiln-dried wood burns hotter and longer and produces a steady heat that chefs prefer. This ultra-dry, bug-free wood will help to get your pizza oven or open-fire grill to the optimal temperature faster and more efficiently. The low moisture content means you're getting the most out of the firewood that you possibly can. You can rest easy knowing the fuel you're burning is clean and efficient.
Although kiln dried wood is a premium product, the significant benefits far outweigh the cost, as chefs all over the country would agree!