It's Spring! The season of mud puddles, rain and scheming. Spring is always the season we spend scheming up the projects we'll do once the last of the snowdrifts disappear. In anticipation of more sunshine and later evenings, many of you are probably starting to look forward to backyard bonfire season, which puts a wood burning fire pit at the top of your to-do list.
A wood burning fire pit is the perfect way to enjoy an evening with friends or family in the comfort of your backyard. An easy win when it comes to home resale value, most estimates show homeowners recouping 78% of the costs associated with building a fire pit; especially the fire pit has natural gas running to it.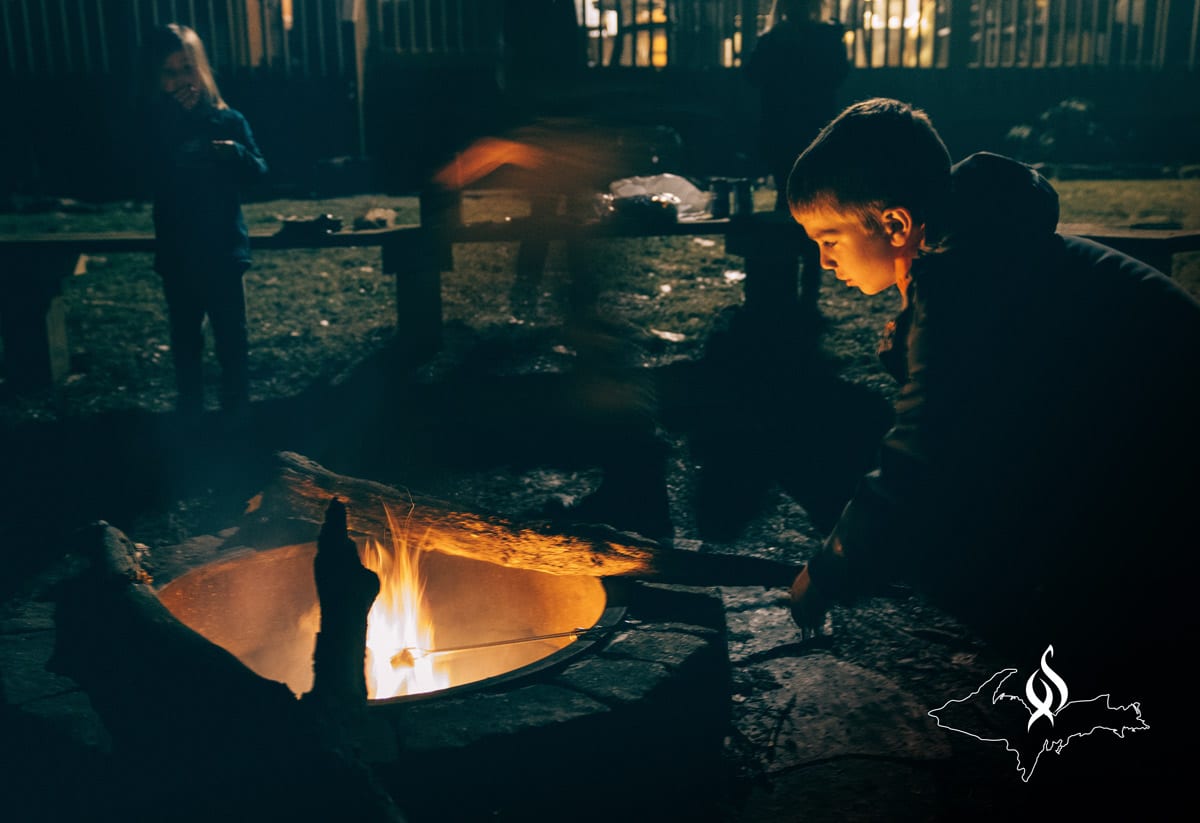 When you first begin to dive into this task, the variety of fire pit styles, sizes, and materials can appear overwhelming. Take a look at the following factors to narrow it down:
- Available Space
- Budget
- Local ordinances
To start, ask yourself this: would it work best if you build your fire pit in one location, or would you rather be able to move it around? Once you've determined whether you'd like a permanent or portable fire pit, you're ready to move to the next step. Skip to the section detailing out the type of fire pit you'd like to build, or read through both if you need help deciding.
Portable
A portable fire pit is by far the easiest option to implement. You simply buy it, assemble it, and light it. There are plenty of options available at your local Lowes, Menards, or other home improvement store, or you can also shop online of course.
While portable fire bowls made of copper or stainless steel are usually lighter and easier to move, fire pits made from cast iron radiate the most heat.
Fire pits aren't always the "open fire" style! If you're looking for more of a fireplace look and feel, some fire pits have chimneys and are called "chimineas." Having trouble deciding between a fire pit and chiminea? Check out this helpful article that details out the pros and cons of both.
Safety comes first, last, and always – especially when it comes to a natural fire feature in your backyard. Be sure to keep your portable fire pit or chiminea on an appropriate natural surface like:
- Concrete
- Gravel
- Slate
- Stone
- Brick
- Fire-resistant composite
To check all your safety boxes, make sure your fire pit is never too close to buildings, on top of a wooden surface, or below overhanging foliage or powerlines.
Permanent
A permanent, built-in wood burning fire pit is naturally going to be more involved. Just as with portable fire pits, you should never have your permanent fire pit near dwellings, under foliage, or beneath power lines (shoot for 10-20 feet of clearance.) Be sure to check this box before you dig, so you don't complete the build only to realize your pit is too close to a fire hazard. Avoid building your fire pit over or near:
- A septic tank
- Leaching field
- Wellhead
- Property lines (check with your local town hall and/or fire department for specifications on how close you can build your fire pit to a neighboring property)
If planned and properly constructed so it matches the look and feel of your home, your wood burning fire pit will significantly increase the value of your home. To add the final touch, consider built-in seating and/or leveled surface area around the fire pit for comfortable seating arrangements.
Once you've got your fire pit set up or built, all that's left is the fire! For the perfect fire pit firewood, give kiln dried firewood a try. This firewood is heat-treated to light faster, burn cleaner, hotter, and more efficiently than traditionally seasoned firewood. To save you the mess, hassle, and sweat, we deliver kiln dried firewood to homes and cabins all across the Upper Peninsula of Michigan. We'll even stack it for you too! Order online today, or give us a call at 906-250-1389.